Successful VR version of Assassin's Creed that works well except for the open combat and offers immersive stealth and parkour fun.
The Animus idea from Assassin's Creed isn't actually that bad. Relive the memories of people and your ancestors through your own eyes. Now you can actually do it with your own eyes, as Assassin's Creed Nexus VR attempts to transfer the familiar gameplay principle into virtual reality. A successful move by Ubisoft? Or just a half-baked offshoot? Taken as a whole, it is perhaps a bit of both.
Familiar characters, new perspective
At its core, Nexus is just as much an action-adventure game as the other parts of the series. The difference is that of course you experience everything from the first person perspective and in three different time periods. Once with Ezio in and around Venice, with Kassandra in Greece and with Connor in Boston, but everything is much less open. Instead of coming up with a new assassin, you fall back on established characters. Not the worst idea if you want to have some adventures with Ezio again.
Ultimately this results in a campaign lasting around 15 hours, a fairly reasonable length and thankfully not as bloated as the AC games of the recent past. Which doesn't mean there aren't a few things to do here. There are a few collectibles with historical information, shooting exercises and parkour time trials.
Each of the characters mentioned basically has their own mini-campaign, while the actual story once again deals with the fight between Abstergo and the Assassins. You play as a hacker who infiltrates Abstergo to find out what is behind a new (or rather old) technology that Abstergo is after. To do this, you search through the memories of the characters mentioned for clues.
What assassins do
Whoever you're playing as, you're mostly doing what you know from the other games in the series: sending people to the afterlife. The majority of this gameplay concept translated well into the world. Sneaking up quietly to look around corners and finally pulling out your hidden blade with a wave of your hand and stabbing unnoticed is even more satisfying in VR.
The movements are just as well implemented. You can move and look around freely, with the game offering numerous different settings (vertigo, camera controls and more) to ensure you feel comfortable while playing. You can do this either sitting or standing. For normal parkour sections, you hold down a button like in the well-known games and then automatically jump over boxes or along walls. There is also a climbing mechanic that allows you to climb up buildings bit by bit using the controller. If a piece of a house seems tangible, you can grab it. Just be careful not to reach as far as I did and hit the ceiling. And yes, of course jumping into the haystack is also a feature.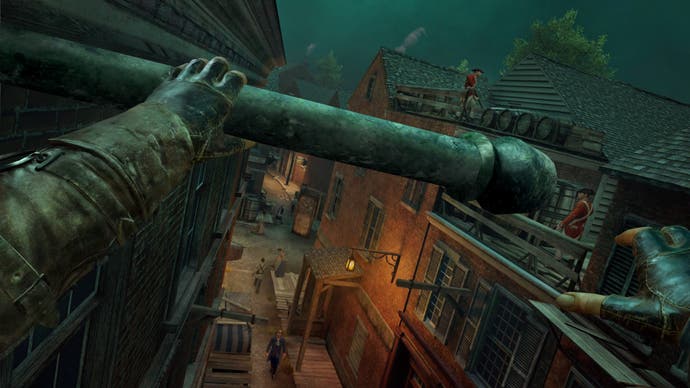 All of this feels relatively good and after a short period of getting used to it, you get along well with it. On the Quest 3 I played it on, the game ran very smoothly and without any major problems. If you don't get along very well with VR yourself, there are the settings mentioned in different categories that will help you make it more enjoyable. Or more intense. Whatever you want.
Are there weaknesses?
The only point in which Nexus VR really weakens in terms of gameplay is the open combat. So it's in line with many other AC games, but these moments are of a rather simple nature. Enemies have a limited repertoire of attacks and your job is actually just to block or parry their attacks, thereby opening a window of opportunity for the attack and striking. And you don't even have to move much, just wait and react.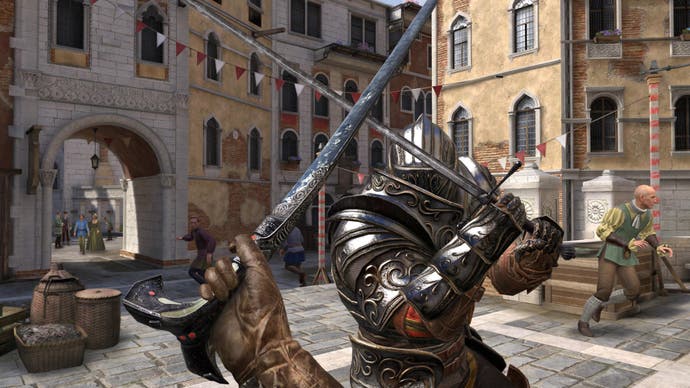 In this respect, you can see this as an incentive to proceed quietly most of the time, because it is much more satisfying if you can eliminate your enemies unnoticed. In their current form, the open battles quickly tire and are not a real challenge.
And what about technology? For the most part, Nexus VR runs quite well and looks good. Just be prepared to see far more loading screens than in a normal Assassin's Creed, such as after cutscenes or when entering new rooms and areas. A closer look also reveals the weak points of the characters, which could use a few more details here and there. A few frame drops were also noticeable in a few places, but overall the performance was fine.
Assassin's Creed Nexus VR – Conclusion
Sometimes I think it's better to approach a game with few or no expectations. Especially when I don't know what to expect. Nexus VR was one such case and in the end it pleasantly surprised me. The Assassin's Creed game concept has been transferred well to VR and works largely familiarly and reliably there. The only thing that needs to be avoided as much as possible is to avoid open fights by proceeding quietly, because they really aren't the best. Even otherwise, Nexus VR may not be the best VR game of all time, but it shows very impressively how well an Assassin's Creed can work in VR if it is implemented sensibly. Ubisoft can continue to build on this in the future.
Assassin's Creed Nexus VR

PER

CONS

AC gaming feeling transferred well to VR
Silent action and stealth kills feel good
Parkour and climbing work reliably
Extensive but not too long campaign
Pay option to customize gameplay

Open battles are rather monotonous and not very exciting
Characters could use more detail
Individual frame drops
You can buy Assassin's Creed Nexus VR from the Oculus Store.