This was the good news of the start of the school year: it is now possible to cancel your subscriptions more easily by going to the website or application of the service concerned. Here's how to do it.
Unsubscribe more easily: since September 1, it has been possible to cancel your subscriptions more easily, whether for an online banking, streaming, telephony, dating, or even insurance service. With the " unsubscribe in three clicks » established by law « taking emergency measures to protect purchasing power ", no more registered letters, trips to the post office and minutes wasted reading the general conditions or contacting customer service.
All companies that offer online subscription are affected. This also applies if you took out your subscription in a physical space, as long as the company in question also offers online subscriptions. To illustrate the procedure, we opted for Disney's video streaming platform. It is one of the services which most quickly complied with the law, and which therefore makes it possible to illustrate simplified unsubscription. In theory, since September 1, everything should be as simple as on Disney Plus. In practice, things are unfortunately more mixed.
1. Go to the website and select the "Cancel" button
First step, you must first go to the website of the service in question. You should find there, on the home page, a button " Cancel subscription " Or " unsubscribe ». On Disney Plus, we can see that the " Unsubscribe » is present once you have identified yourself – although you have to scroll through all the video recommendations to reach this link at the very bottom of the page.
2. Check your subscription details (minimum commitment period?)
And when we click on it (1st click), and you are connected to your customer account, you come across its " Subscription details ", with, here too, a " Unsubscribe ". It is at this stage that you can see concretely what you have committed to, and whether or not your subscription includes a minimum commitment period. If so, you may have to pay a termination fee.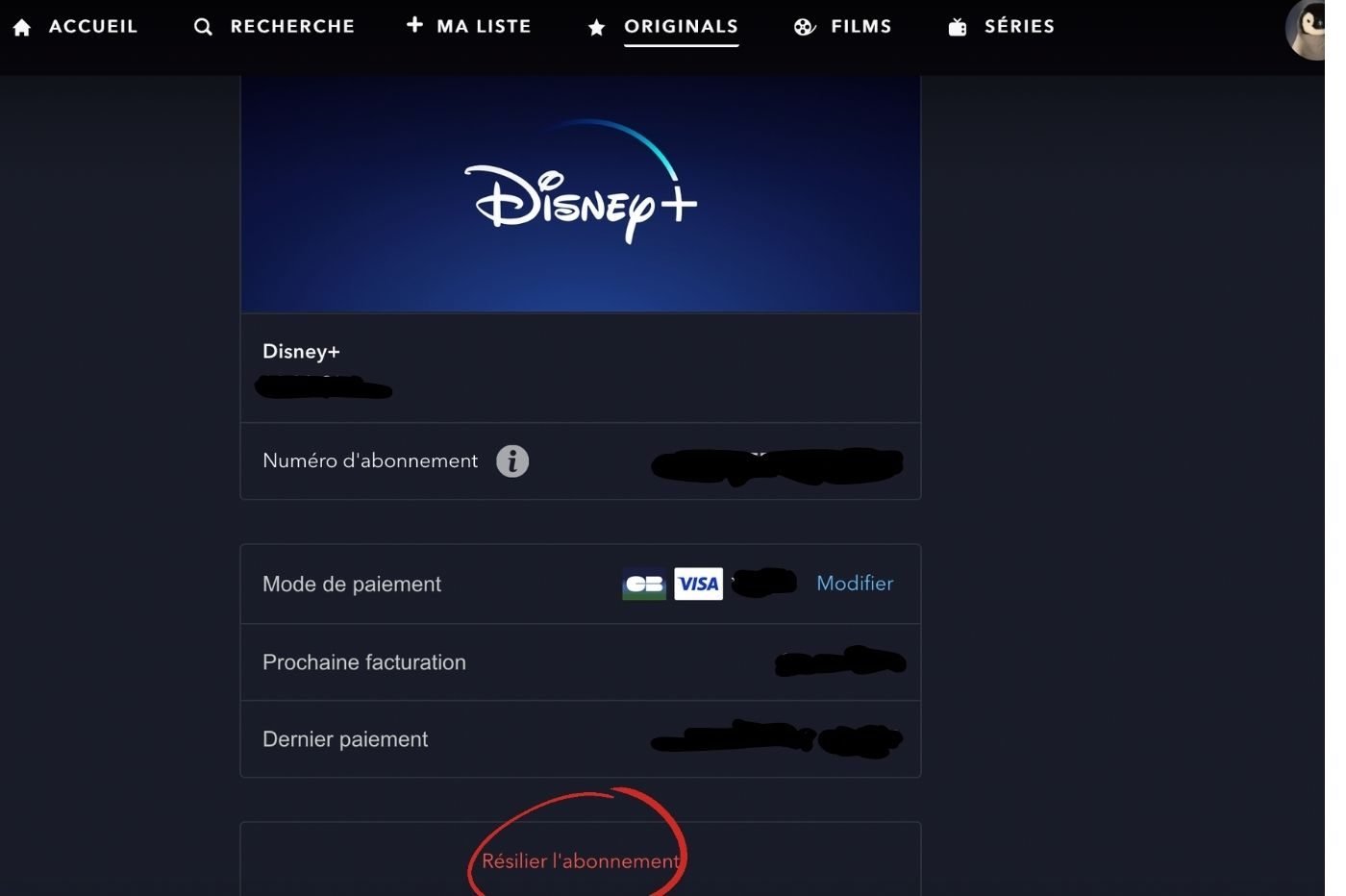 By clicking on these words again (2nd click), you arrive on another page, asking " why do you want to cancel it? ", with a list of answers to check off – an optional step.
You must again select " Continue to cancel » (3rd click) to land on another page, a " Summary of your termination ".
3. Check in the termination summary the end date of your contract and your unsubscription fees
The streaming platform explains that: " If you cancel your subscription, it will end on the date below ". She adds : " Don't forget to browse our recommendations before leaving us », listing series and films that could convince you to stay.
At the bottom of the page, we find the date of terminationand you are asked to confirm, one last time, your desire to unsubscribe, by clicking on " No thanks, cancel Disney+ » (4th click). You will have noticed that you had to click four times on " Terminate » to successfully unsubscribe and not three. But overall, Disney Plus complies well with the new obligations of article L215-1-1 of the Consumer Code.
We did the test again to cancel a telephone subscription with Red by SFR, where we clearly find the " Termination » at the bottom of the home page. You must then log in, before immediately coming across a summary page which details the possible termination fees – an important point that should not be forgotten.
Because although the law now allows you to unsubscribe in a few clicks, it does not give you the possibility of ending your commitments. You must therefore carefully check whether, during the second step (details of your subscription), you have committed at a minimum subscription duration before canceling. If this is the case, we cannot repeat it enough, but you will have to pay termination fees.
Many sites are not up to date
But apart from these two examples and a few other good students, we noted, Wednesday September 6, that many platforms (audio streaming, online yoga classes or media) were not complying with the new law, six days after its entry into force. On these websites, no Termination button was accessible on the home page, once connected to your account. As before September 1, you must go to your personal space and then click on "Manage my subscription" to end it. And in some cases, it is even impossible to find a "Cancel" button on your account. The user is then forced to look for an email or postal address, or even ask customer service how to cancel their subscription to unsubscribe.
However, this facilitated termination is good mandatory since September 1. And to comply, companies had already had three additional months, since the decree was initially to apply from June 1. The sanctions for all companies that do not respect the implementation of this procedure are far from being light: the company risks a fine of 75,000 euros (for a legal entity) and 15,000 euros if it involves 'a physical person.