We will always call it "the FIFA" and, in fact, EA Sports FC 24 has many of its endemic problems, especially with what happens on the green. But he also has the courage that has been required for years with the inclusion of his true change: mixed football in Ultimate Team.
Football has changed a lot. When I was little I spent the afternoons listening to the radio, starting with the unmistakable sound of Pepe Domingo Castaño's intro; the prelude to an intense Sunday, with many games being played simultaneously and with the hope that, every time the goal alarm sounded, it would be with a goal in favor of my team. Now, all that passionate component, that of being glued to a transistor, has disappeared in favor of turning everything into a logical but vile business. One in which sponsorships and million-dollar contracts in countries without human rights matter more than the availability of a subscriber who wants to see a match of the club of his heart in the stadium, but cannot do so because the dates and times are designed to someone without attachment who is at the other end of the globe. This nest of predators has also reached video games and, without wanting to sound too much like a nostalgist who is closed to changes (it is not that, far from it), the truth is that, in that, in a business, it is what is has become Electronic Arts' FIFA for a long time. And there is no one to stop it.
It is legal, of course. It makes sense that if something like Ultimate Team works so well and gives EA Sports multimillion-dollar profits, they focus their attention on it to, if possible, increase their profits even more. After all, a high percentage of users buy the game to invest, or spend, each one chooses the meaning that they consider most appropriate, hundreds of hours designing the dream team and embracing the multitude of events that EA Sports They have been devilishly studied to capture and retain us throughout the season. Understanding this as the backbone of the new generation of football video games (and sports games, in general), I can't help but feel slightly uncomfortable with it when analyzing EA Sports FC 24. Because I have the feeling that already It doesn't matter what happens in the games. That no one cares if it is more or less realistic, if the physics of the ball responds like a real ball depending on how it is hit, that the goalkeeper's fingers bend when he tries to clear a ball that sneaks into the back of the net. , or that the fans cheer with chants or that they leave the stands if their team is clearly behind in the electronic score.
This happens for an obvious reason: EA has detected that it doesn't matter to us at all. Every season we are sold small changes because there is a marketing team that must justify their salary. Thus was born the bombastic Hypermotion technology, which has apparently been evolving over the last three seasons, to offer more realistic movements and animations on the virtual playing field. The reality is that we see some slight nuances, especially when it comes to the fights between soccer players and the occasional characteristic movement of some of the football stars, details that help deepen the feeling of watching a real game. Although these small improvements are there, they are not too far from what was offered at a playable level the previous season, nor the one before the previous one. There are some other details that have been touched upon, such as the inclusion of semi-manual passes, with which we can establish direction using the right joystick, to try to break defenses and throw balls into space; the typical addition that will take us a while to master and that may be here to stay if the community gets used to it and takes advantage of it, although it is not the first time that something similar has been tried to be incorporated, without success.
The biggest changes when it comes to what is purely the gaming experience come as part of the rebranding that the brand has had after its break with the FIFA establishment after almost thirty years of relationship. There are new menus in which we will spend hours to manage tasks, which are more visually attractive and group information better. There are also new cinematic scenes in the run-up to the match, closer to what happens on the grass and shorter, because why are they going to bother too much if everyone ends up skipping them after they've seen them once. Some other graphics showing statistics for data lovers. And some other sequences between play and play, including one of the strangest in which we are taken to the referee's first-person view while he warns or sprays to locate the barrier.
All of this contributes to offering an experience closer to the television experience, to which must be added, finally, the inclusion of new commentators. Miguel Ángel Román, one of the best narrators in the country (and whom he had personally been asking for this role for years), sets the tone and expresses his passion also in virtual football, being much more energetic and passionate than we were used to every time he There is a dangerous play or, especially, a goal. For his part, DjMaRiiO is the most controversial addition in this aspect in his role as commentator, with the aim of continuing to attract new generations. Although at first his presence is shocking, in the end, and although most of his comments are obvious that contribute little to nothing and that move away from the expert perspective that the commentator should offer, his speech is correct and the problem may be more in the lines of dialogue that he had to read, with which he contributes quite little.
A large part of the hobbies, as happens in reality, are also forgotten in EA Sports FC 24. In previous installments it was perhaps more understandable than now; In Spanish football we are talking about a season in which sponsorship debuts in the professional football leagues of our country, and we have competitions called LaLiga EA Sports and LaLiga Hypermotion. With this million-dollar deal in the making, perhaps out of naivety or an illusion in a better representation of the most modest clubs in our country, I expected greater affection and that said sponsorship would lead to the total recreation of the teams, stadiums and players. of the forty-two teams that make up these competitions. It's not too much to ask, I think, considering that this happened a few seasons ago with the English league. But, obviously, this does not happen and, although it is true that there are more scanned players' faces, many teams lack details that others do have, such as the anthem when taking the field or the personalized chants of the fans cheering during the ninety minutes. Many, especially in the second division, do not have their stadium recreated either, and not being able to play in historic fields such as La Romareda, El Molinón or Carlos Tartiere is a real shame. Yes, it is something that matters to a minority… but it is also the minimum required, because this content is also transferable to Ultimate Team.
Because yes, Ultimate Team is the pillar on which the franchise has stood for a long time and, in the end, we all end up embracing it despite being aware that its mechanics are far from being considered ethical. Putting this debate about the randomness of envelopes and FIFA Points aside, at least this year it gives us joy with a novelty that comes to change absolutely everything: mixed football. For the voices critical of this addition, I can only say one thing: Ultimate Team was born, from the beginning, with the idea of ​​being a fantasy football game. It is not realistic to put together Real Madrid players and Barcelona players on the same team. Nor is it possible to assemble a squad with players who have been retired for more than twenty years or even deceased. If you haven't cried foul about that, you shouldn't do it either because active women are included.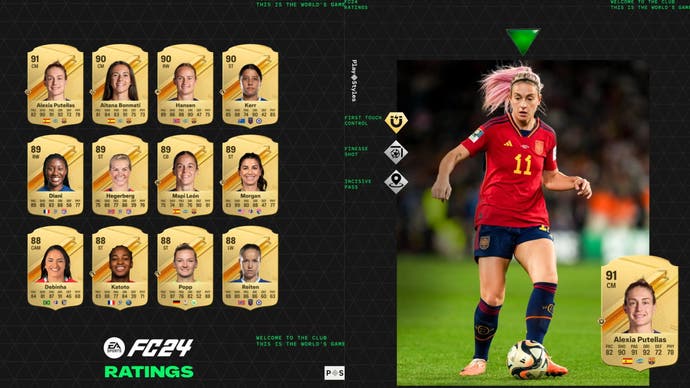 Professionals like the top of a pine tree who also provide a more creative component to FUT teams, thanks to the versatility they add when creating a squad. The truth is that many of them will surely give you better results in the long run than any male soccer player, especially if EA adds a card that is optimal for the meta of the game. I am clear, for example, that I will always have Trinity Rodman on my team, because he is an arrow on the wing. It is not EA's only success in this new Ultimate Team, because evolutions are also added, with which we can improve any card by various points if we meet a series of objectives, in a similar way to seasonal objectives or milestones. In this way, there is more variety and versatility in FUT games, making the community sharpen its ingenuity by trying a greater number of cards so that we do not always face clone lineups.
There is no shortage of other classic game modes such as Career Mode (either as a player or manager) or Volta Football, which refuses to disappear. Add-ons that are there to offer variety and sustenance to a small part of the community that opts for this type of more traditional sections than for Ultimate Team, the star of the feature. In the end, EA Sports can be criticized for saying that the name change has turned out to be a wasted opportunity to make much more forceful changes. A maneuver that can be considered risky and unnecessary taking into account how well things are going for them and that the absence of competition, with eFootball trying to recover the identity of yesteryear, takes away the pressure or the need to do better or differently in order not to lose. public. With that self-sufficiency, the same thing as always happens again: that we have a thousand complaints and small (or big) details that we would like to change "about FIFA", but that, one more year, and even though with the previous one we have promised ourselves that we would not buy it But, knowing that we were deceiving ourselves, we will end up spending countless hours at the pace of "one more game and I'll quit."