As always, a very detailed and successful football management simulation with which you can spend hundreds of hours playing.
New year, new football manager. So far, so unsurprising. But: The development studio has already announced that Football Manager 2024 will be the last of its kind and that a lot will change in the future. So is this a successful conclusion to this era? And does he still lure me out from behind the stove as much as he used to?
The FM 2024 and the charm of tables
Essentially, Football Manager 2024 presents itself as it has in previous years. Lots of tables, data, figures, facts and texts. If that's the charm that defines Football Manager for you, you'll get exactly that again in the 2024 version. There are countless menus that you can delve into and get lost in. Before you see a game on the virtual pitch in Football Manager, you can spend a lot of time doing other things.
Football Manager is certainly not a fast game, nor has it ever been. And yet it's like EA's football games. Sometimes the changes feel comprehensive, sometimes not so much. This year things are looking a little better than last year. For example, setting the guidelines for set pieces has become a lot easier and you get better feedback in-game.
There are also improvements on the lawn itself. Sports Interactive has improved the animations and the transitions between different animations. So everything seems a little more fluid than in the past, although the entire presentation still seems quite simple. Nothing that hasn't been seen in games for 15 years. But well, that would be the icing on the cake and state-of-the-art graphics are not what is important here.
It's about data, feedback and knowing whether the settings you've made are working on the field. And you can definitely see that with this not exactly modern presentation. Ultimately, that's the most important thing. Analyze what your team is doing and try to improve their approach. What the problem could be can be easily identified on the pitch, for example if you are working with high crosses but your small striker has no chance against the stocky defenders. In this case you should rather rely on flat passes.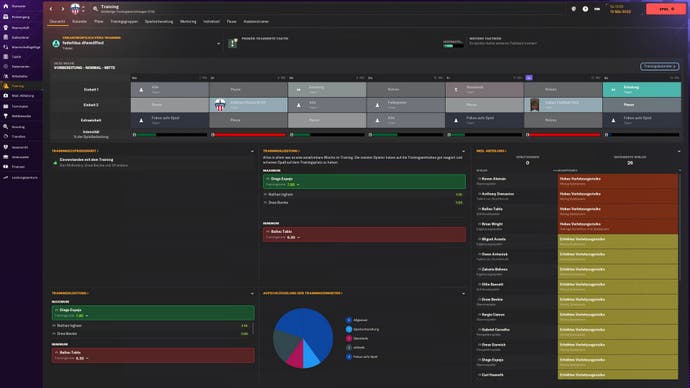 Relaxation and work
Compared to everyday management, watching the matches is almost like a relaxing few minutes. Here you don't get countless emails, you have to take care of the club's affairs, make sure that the store is running and that your club has enough cash. There are so many things you can do here. However, a lot of this can be regulated automatically if you don't want to delve into the details yourself.
The interactions between you and your players have been improved. For example, it is now possible to respond to their demands (more money or more playing time) by setting goals. Score a certain number of goals and you get more money. Things like that. Although I had the feeling that many players are often not so enthusiastic about agreeing to such requirements. Maybe SI needs to make some adjustments here.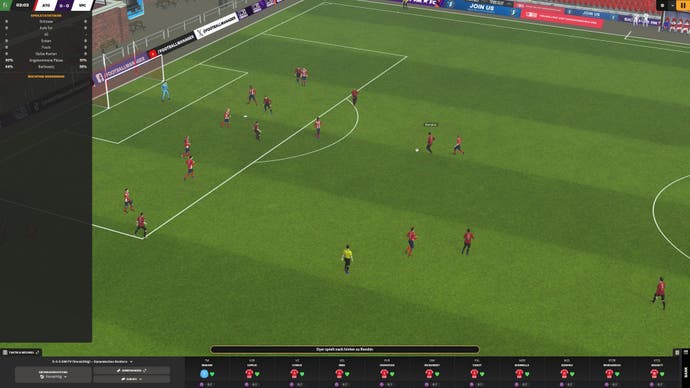 Further adjustments await you with the transfers. According to SI, the AI ​​managers have been optimized so that they can act more cleverly and take more factors into account when negotiating transfers. At least in the season so far, this has resulted in the wild transfers that occurred in earlier versions being somewhat limited. Getting good deals for players when several clubs are still competing with each other is really not easy. A bonus payment to the manager can help, but that is not a small amount of money that goes to top players and can significantly reduce your financial resources.
Apart from the innovations and changes, Football Manager 2024 basically plays as you know and expect. It was not and is not to be expected that SI will completely throw these basics away.
Football Manager 2024 – Conclusion
Ultimately, Football Manager 2024 remains a real time waster. In fact, I always find the sheer number of options, values, statistics and so on overwhelming rather than helpful. In that sense, Football Manager is almost too detailed and time-consuming for me. When I think about how much time I used to waste in Bundesliga Manager Hattrick – where everything went a little faster – it's actually sad that Football Manager doesn't really grab me that much. But that could just as easily be due to changing playing habits since then.
I actually want to love Football Manager 2024 (like its predecessors), but I can't find the time to really spend a long time with it. And the sheer volume of menus, data and so on doesn't make it any easier for me to quickly spend half an hour. It feels like I can only manage one game in the time when I take care of everything. Which overall doesn't detract from the qualities of this game. Anyone who is looking for exactly that and can and wants to get involved with it will be just as happy with Football Manager 2024 as with previous versions. And this time you can even copy a save game from FM 2023! It's just not a game for everyone, that much is clear. But that's okay, it doesn't have to be that way.
Football Manager 2024

PER

CONS

Countless statistics, values, data and so on
Match engine improvements
Noticeable improvements in transfers and standards
Realistic representation of the football world
Many automatisms do the work for you if you want

Technically, the match engine is still outdated
Player interactions improved, but not entirely convincing
You can buy Football Manager 2024 on Amazon.de, on Steam, in the Nintendo Switch eShop, in the Xbox Store and in the PlayStation Store.