What does a new Forza Motorsport need? It should look good. Check. It should have a good driving experience. Check. These are two important basic requirements that the latest part fulfills. I was recently able to play it to a very limited extent (compared to the final version), but that's more than enough to say that I'm really looking forward to it.
In addition to the introduction to the two tracks Maple Valley and Hakone, I was also able to try out the Builder's Cup career mode and its first event, which in turn includes the Grand Oak, Mugello and Kyalami courses. As I said, this is only a small part of the overall package, in the final version there are 20 routes spread across numerous events, including five completely new ones. And they also have a 24-hour day-night cycle, weather effects and change over the course of a race.
Forza Motorsport has a lot to offer at launch
The vehicle selection was just as limited in the preview version: 2024 Chevrolet Corvette E-Ray, 2023 Cadillac #01 Cadillac Racing V-Series.R, 2019 Subaru STI S209, 2018 Honda Civic Type R and 2018 Ford Mustang GT. I was primarily traveling with the Subaru, later there will be more than 500 vehicles available at the launch. You can let your virtual garage overflow again. But it is already clear that every vehicle has its own nuances that make the driving experience subtly different.
You decide in detail how realistic or not it turns out. From driving aids to the level of difficulty, a lot can be regulated, which also affects the reward depending on the difficulty. You can even choose your starting position in a race. If you start further back and then win, the reward will be correspondingly greater.
Customization in Forza Motorsport
The individual adjustments in this area do not stop. On the contrary, more than 800 vehicle performance upgrades are available in the full version. You can install them in the cars and thereby increase their performance. Which in turn affects driving behavior. In principle, you should pay attention to the best possible balance, which the game conveniently shows you. But that's not a must, you can of course also focus more on a certain aspect, but then you have to take into account that the car may no longer glide quite as smoothly over the asphalt.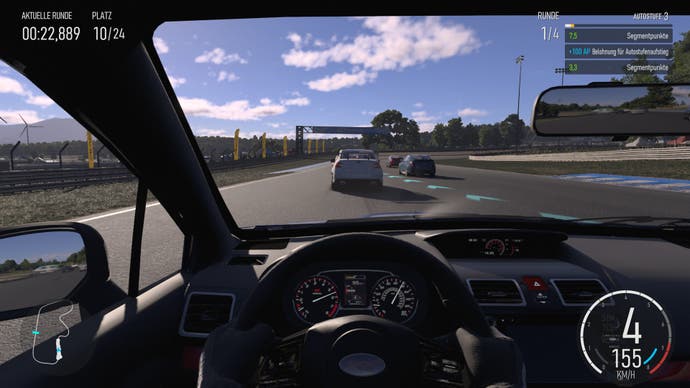 The multiplayer part was not yet available in the preview version, but I could choose between three graphics modes. Performance and Performance RT both target 60 frames per second. Visually, you get the most out of the graphics mode, but you are limited to 30 frames per second. But no matter what you choose, the game looks beautiful in any case. Depending on the time of day, it impresses with atmospheric panoramas and the stars of the game, the cars, are also implemented in extreme detail.
In online races, tire and fueling strategy also plays a role and in general the structure of the races is inspired by a real racing weekend. At least at the beginning of the Builder's Cup, this means first of all completing three practice laps on a track before jumping into the race. But you can also skip it if you don't think it's necessary. Certainly an option later if you know the courses inside out, but at the beginning it helps to familiarize yourself with important parts, for example.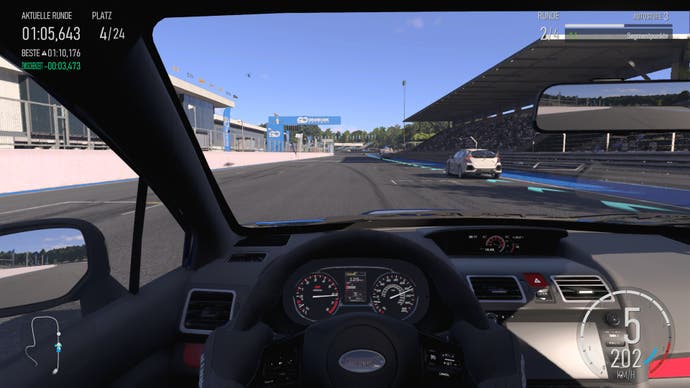 As far as the AI ​​is concerned, I wouldn't allow myself to make a final judgment yet, not before the test anyway. At the middle level, however, they try to close the gaps here and there and one or two duels break out among themselves, in which some cars end up off the track. This feels realistic in the moment and gives a race more dynamism when someone flies off the slope and not everyone is always racing across the course as if on rails.
What can I say about that? It's Forza Motorsport and it feels exactly how I expect a Forza Motorsport to feel. The more realistic, down-to-earth counterpart to the also excellent Forza Horizon. Of course, the preview version doesn't allow any conclusions to be drawn about long-term motivation, but driving was a lot of fun and the handling is much more realistic than in a Horizon. While you're happily racing through the landscape there, you'll have a problem here if you stray a little too much into the green or sand. On top of that, it looks really good and the many customization options should also ensure a lot of individuality. Long story short: I'm looking forward to it and anyone who likes Forza Motorsport can too.