Not the most tactically demanding brawler of its kind, but it is presented first-class and in which you can sink several hours.
Don't worry, I won't bore you with history for long before we get to Mortal Kombat 1. But so you know where I come from: The first part left me pretty cold in 1992 – mainly because I had little use for excessive brutality as a teenager. After that, it was particularly this tiring gray-brown in which serious macho guys took themselves way too seriously… Ed Boon's wavelength was simply never mine.
But what do you want to do when at some point it says: "If you play with a controller that costs 300 euros, you can also test Mortal Kombat 1." After all, I'm actually currently playing on the Kitsune from Razer, which I'll be talking about shortly you will read enthusiastic lines. But what's much more important: The current Mortal Kombat not only looks as if the developers have found the paint buckets they lost 30 years ago, it also sets a completely new course narratively – in the spirit of a "requel", like the cool kids of today to call that solution between a continuation and a completely new beginning. And yes, I like to roll my eyes at that term.
But it doesn't matter, as they say: Mortal Kombat starts from scratch. The story mode begins quietly with Raiden and Kung Lao, who are working in the fields on their hometown and apparently have nothing to do with the characters you knew before. On a small scale, it has a cinematic flair that I found more appealing right from the start than anything I knew about the series before.
Other characters also have completely new relationships with each other or fill unusual roles. Of course, you can recognize most of them immediately. And soon it's all about the familiar tournament, in which fighters of different dimensions compete with each other in sporting competition. Only that this first baptism of fire is logically just the beginning of the drama, which soon calms down.
I don't want to put it on too high a pedestal, but I would still like to emphasize that I particularly like the relationships between the characters and the likeable humor – I'll say: for what Mortal Kombat is – surprisingly. Of course A24 wouldn't include these film scenes in the program, that goes without saying. But after I recently watched the broken Moonfall…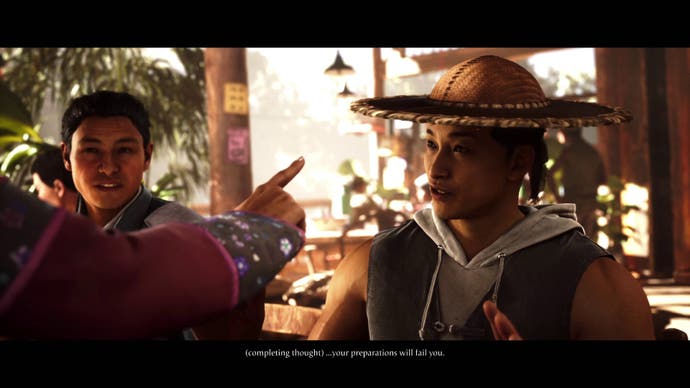 And how magnificent it looks when Boons NetherRealm Studios once again stages impressive film sequences that shine with expressive faces and elaborate backdrops! I also like it when the fighters are not reset to their starting positions after a hard cut before a new round, but move there with a saying on their lips – panting heavily if they narrowly escaped defeat in the previous round.
This is not just in the story, but in all duels and nothing new in this series. I only know this because I also played the predecessors for the test. But I had even more fun "discovering" this quality. In any case, I can't remember ever being so excited about the campaign of a martial arts game, and if you also appreciate this type of entertainment, this might be the right place for you.
Especially since there is a completely different reason for this. Because everything starts from the beginning, the individual characters are introduced in such a way that you first get to know them in peace. Only as the story progresses do they go through a development in which they become the heroes and villains that they are ultimately meant to be, both narratively and playfully. This isn't just narratively interesting; They also often have a limited repertoire of attacks before you can use all of their abilities.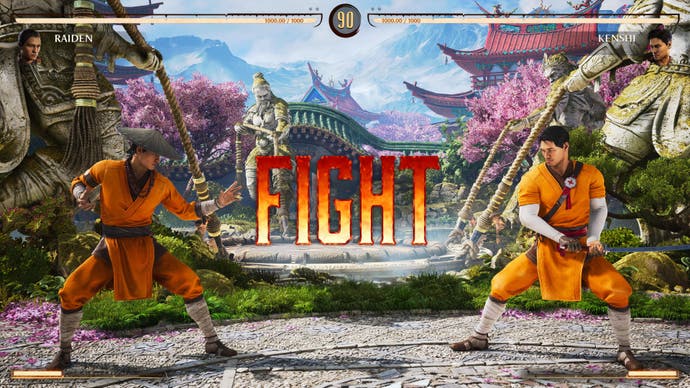 Speaking of abilities: These now also include the ability to activate a second character, called Kameo, at the push of a button. However, he doesn't take over the fight, but just storms in briefly, carries out the desired action and disappears again. Each Kameo can handle up to four such attacks – Darrius, for example, has an overhead attack and a jumping kick. Or he grabs the active fighter's hand so that he can use it like a whirling blade in a triple pirouette. Sonya can throw enemies and attack them in the air, while Kano can target them from a distance using an eye laser or come at them as a flying ball and much more.
---
Mortal Kombat 1 is sold both digitally and in traditional stores. The regular edition costs just under 75 euros, while a premium edition costs just under 100 euros. It costs five euros less on Steam and the Epic Games Store.
Amazon
Steam
Epic Games Store
Saturn

---

Since you can freely choose your companions outside of the story, you have the opportunity to individualize a character's style or compensate for possible weaknesses. If you ask me, this is a very successful system for bringing tactical variety and other characters into the game without diluting the essence of one-on-one.

I don't want to forget the detailed tutorial, which covers pretty much everything you need to know about Mortal Kombat 1, from a mundane punch to a complete chapter on frame data and techniques aimed at highly competitive players. You don't even have to go through all the lessons, you can select each key point individually as you wish and then practice for as long as you like. This is really exemplary in form.

The cameos also help with certain holds.

Now I have to say that despite the variations on the cameos, the characters all feel similar. By that I don't mean their animations and other peculiarities, but rather what you do on the controller. There's a lot more variety in comparable brawlers, which is why I'm a little less attached to my previous favorite fighter in Mortal Kombat 1 than is the case elsewhere.

Apart from that, the game requires you to tilt the right analog stick for some actions, which I find extremely unfortunate as a user of arcade sticks or the aforementioned hitbox controller. Although these are rather inconsequential inputs such as scrolling through tutorial texts that change automatically at some point, it is still a very strange oversight in a game like this. If only these functions could be freely assigned to other keys, but that is only allowed with regular attacks. For example, I practically never use L1 or L2.

And one more thing: Why do you actually have to be online to play Invasions solo mode? Admittedly, I can probably answer the question myself. After all, seasonal events and rewards are tied to it. Nevertheless, it is a shame that the second major mode cannot be played offline in any form and that you do not receive any rewards in the towers mode, which is also available (elsewhere it is essentially the arcade mode, each with its own ending for the different characters) without an online connection.

Towers mode ends with a separate epilogue for each character.

Invasions in particular are a successful change from the regular duels. It is a completely separate mode in which you move the character, which can be selected at any time, around fixed points on a map. Each victory then unlocks the next point. The whole thing is broken up by special challenges such as breaking tests or quick jumping and ducking to avoid obstacles.

In addition, special rules apply here. Sometimes you get ambushed on the way to another point, sometimes you have to defeat several opponents in one game and the fighters always belong to a certain element against which the fighters from other elements do different amounts of damage – a table shows you in detail who has strengths and weaknesses against which.

You also have to pass breaking tests in the invasions.

Apart from that, you collect experience points with which you can increase five basic values, including the amount of life energy and the strength of your attacks. There are shops where you can find crystals for additional lives, keys to open chests and remedies that increase resistance to certain elements. And then you use talismans that give you a limited number of special attacks and can also be leveled up piece by piece.

Individual pieces of this virtual board game will appear familiar to those familiar with the series. In any case, here you earn items and clothes with which you equip your characters, or the money to buy them. With each season, the developers want to offer new rewards and probably also new stories. Just as we know from current service models.

I especially like the mode because it gives me the opportunity to have quick duels against the AI. I miss that as a separate mode, but whatever. There are worse ways to spend your time in virtual combat.

You can also donate money earned in the game to a lootb… excuse me: a shrine, which then spits out a random decoration.

Of course, you can also let off steam in front of the TV with your girlfriend or boyfriend and even start a living room tournament, while online, in addition to casual games, there are also ranking matches and king-of-the-hill rooms, whose participants try one after the other to overthrow Hill King.

The last online games are automatically saved so that you can analyze them later at your leisure – either at half speed or by fast-forwarding frame by frame. Has something! Even though so far I've only been allowed to watch my characters being beaten black and blue. I'll probably have to train for another hour or two. It's good that I'll be happy to do that in such a fine game.

Mortal Kombat 1 in the test – conclusion

As I said: It is neither the most tactically demanding nor the most playfully varied martial arts spectacle – but it is definitely a spectacle. I particularly like the excellently staged story mode, although I find it very pleasant that the story is practically completely retold and that Mortal Kombat 1, even more than its predecessor, has nothing to do with the boring gray-brown of earlier years. Some of the arenas look incredibly lively, while in the foreground there is a dynamic four-way fight between the two protagonists and their cameos, which individually complement the fighters' repertoire. Also because the Invasion mode adds a kind of motivating board role-playing game to the spectacle, I'm very happy to finally be able to spend a lot of time with Mortal Kombat. There couldn't have been a better time for this.

Mortal Kombat 1

PER

CONS

Cinematic story mode with well-known characters in some new roles
Invasions as a motivating game mode with seasonal updates
Chic, colorful backdrops with lots of movement and first-class animated fighters
Flawless network code and online play with ranked, casual and king of the hill matches
Extremely comprehensive tutorial that includes everything from simple punching to professional techniques in small steps

All characters are similar in terms of play
Solo mode Invasions can only be played online and rewards in towers can only be played online with an online connection
No mode in which you quickly string together duels against changing AI opponents
Unfortunate button mapping for users of arcade sticks and similar controllers