A very successful sequel with a beautiful setting and a lot of variety, plus a significantly improved driving experience.
The development studio Ubisoft Ivory Tower certainly didn't lack ambition. Race through the entire United States of America in your car, and in the second part also by boat and plane. Sounds kind of tempting, doesn't it? And yet the first two games in the series were never able to really captivate me in front of the screen in the long term. I'm not even sure what exactly it was. Maybe the setting was easy for me to big, not unusual enough. And I also had some problems with the driving behavior. Does the third part, The Crew Motorfest, make it any better?
Yes he does! Broadly speaking, this is due to two points. While they don't make The Crew Motorfest the perfect racing game – for me it doesn't quite come close to Forza Horizon, but it's on the right track – they do show that bigger doesn't necessarily mean better, for example.
Smaller but more interesting
On the one hand, Ubisoft has given Ivory Tower The Crew Motorfest a shrinking treatment. Which doesn't mean that it doesn't have much content to offer, on the contrary. Rather, the available scope is significantly smaller and includes Hawaii's main island. And the same applies here: That's not as little as it might sound. In any case, it's a very beautiful setting, stretching from coastal roads through dense forests and mountainous regions to the streets of Honolulu. There's a bit of a holiday feeling when you're racing along the beach in wonderful weather or racing towards the sunset over the sea.
The game world is more compact and at the same time filled with more interesting things. You have different playlists in the game. I started with "Made in Japan" and in keeping with the theme, the individual routes were decorated with decorative dragons and rising lanterns, and the streets of Honolulu were decorated with neon lights. Everything is very consistent.
The second big point is the handling of the vehicles. They feel significantly better than in the second part. We're far from a simulation here, it's more like an arcade, but overall the balance is right. And that applies to pretty much all types of racing events, whether street racing, off-road or in Formula 1 cars.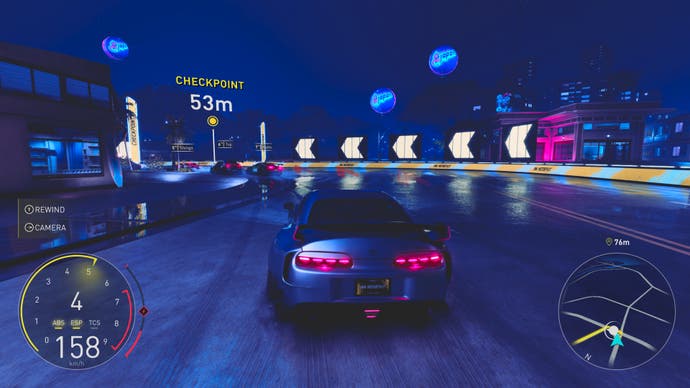 Even though the final step towards a perfect driving experience is missing, Forza Horizon is still a step ahead. The vehicles leave an impression that is too slippery, especially on the roads. You get used to it, no question, but it gives the feeling as if the vehicles would like to start drifting too quickly, even though I don't actually want that. If you like, you can switch various driving aids on or off and tune your vehicles with earned upgrades in different rarity levels. Boats and planes are still there, but they don't control themselves as well as the cars, which are noticeably in the foreground here. In any case, a very nice feature is the ability to import your garage from part two into Motorfest when you start the game.
What's there to do at The Crew Motorfest?
The focus of the game is the eponymous Horizon Fest… er, Motorfest. An event to celebrate car culture. With lots of pseudo-cool cutscenes and dialogues. At least in terms of the cringe level, it's on the same level as Forza Horizon. But no matter, you can safely ignore that and concentrate on the most important thing, namely the playlists that have already been briefly mentioned.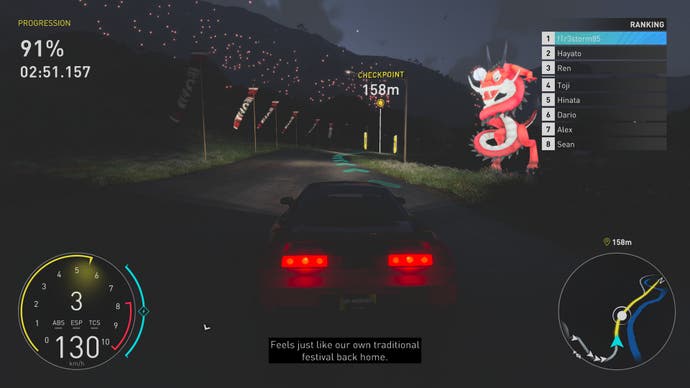 They are basically small campaigns that focus on a specific topic. The aforementioned "Made in Japan" is about Japanese cars, and you have a tour that takes you past the island's sights. And one that celebrates the Porsche 911. There are 15 of them at launch and they span several races, offer challenges and more. There is definitely variety here. In F1 cars you have to change the worn tires at the right moment, while elsewhere you're driving a car from the 1950s and don't have GPS, just photos to help you orientate yourself. And you don't necessarily have to complete the playlists. If you're not interested in the Porsche 911, no one is forcing you to complete this playlist.
If you play events in a playlist for the first time, you are mostly limited to driving a given car. Only after completing a playlist can you complete the individual races again with a car of your choice that you have customized and pimped out yourself. It's a bit of a shame that this isn't possible from the start, but oh well.
Sometimes a little overwhelming
At some points The Crew Motorfest leaves a subtly underwhelming impression. On the one hand, this is due to four different bars with experience points that you fill. On the other hand, there are tons of upgrade parts for the vehicles. Which not only increase individual values, but also include additional perks and buffs and therefore even more icons. Nice for anyone who wants to get into it, annoying for others who just want to drive. In this case, you should concentrate on the values ​​and not pay any attention to the perks. In any case, this saves time for thinking.
In any case, you won't get bored in Hawaii, there is always something to do somewhere, be it normal races, challenges, slalom races or speed cameras where you can set new top speeds. You'll also constantly see other players' ghost vehicles, because The Crew Motorfest is an always-online game. Accordingly, the test version I downloaded several days before the start of early access without the server being activated did absolutely nothing for me. So if there are server problems or maintenance, you won't be able to play.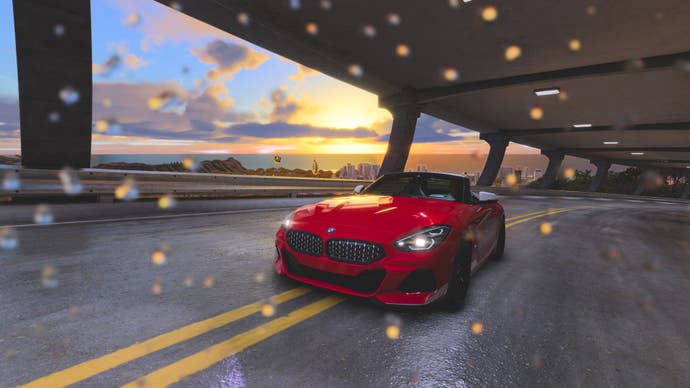 Aside from all the solo content, there are of course multiplayer features. Join a crew and race across the island or plunge into various competitive modes. In one of them, called Grand Race, there are 28 players on the move and you switch between three vehicle classes. You also have a Destruction Derby aka Demolition Royale for 32 people, where you ram your competition off the track to prevail. Anyone who has played enough alone can keep themselves busy here for quite a while.
As far as technology goes, I had few problems while playing. What's a bit annoying is that the game kicks you off the server if you're idle for a few minutes. Otherwise it ran relatively well, in performance mode The Crew Motorfest aims for 60 fps and I didn't have the impression that there were any problems here. The colleagues at Digital Foundry will certainly analyze this in more detail. If you like a higher resolution, switch to quality mode with 4K resolution and 30 fps.
The Crew Motorfest – Conclusion
For me, The Crew Motorfest is clearly the best part of the series so far. This is not only due to the beautiful setting, but also to the significantly improved handling of the cars, which keeps me glued to the screen much more than the two predecessors. It's not quite perfected yet, but with the – compared to the virtual USA – more manageable setting, the improved handling and a lot of variety, Ubisoft Ivory Tower is on a very good path. Sometimes it can be a bit overwhelming and the whole cringe surrounding car festivals like this cannot be ignored, but if you're just interested in driving, you can have a lot of fun with The Crew Motorfest.
The Crew Motorfest

PER

CONS

Very nice setting
Lots of variety on the island and in the playlists
A lot of vehicles
Fun multiplayer modes
Improved driving experience

Lots of cringe and chatter surrounding the motor festival
Handling of the vehicles on roads is not quite perfect
Sometimes overwhelming options
Internet connection required to play